GDPR - General Data Protection Regulation
The General Data Protection Regulation is a Regulation in EU law on data protection and privacy in the EU and the European Economic Area. The GDPR is an important component of EU privacy law and of human rights law, in particular Article 8 of the Charter of Fundamental Rights of the European Union.
With an enforcement date of May 25, 2018, the GDPR is designed to unify data privacy requirements across the European Union (EU). The legislation provide a single harmonized EU regulation with the expectation to standardize how an organization must manage personally identifiable information of EU employees and clients. It protects the data of all EU subjects regardless of where you collect, store or process it. It requires that you strengthen data privacy controls, ensure the technology you use to manage personal data is fit for purpose, and that you can supply detailed, documented, responses to requests for data. And that's just the start.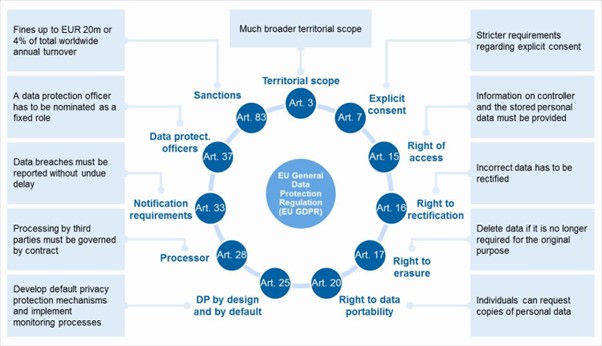 GDPR Roadmap
INTERCERT provides an array of GDPR assessment services to help customers gain a holistic view of their state of compliance towards the GDPR and assess their readiness towards the GDPR. Our ADIOC methodology helps organizations achieve GDPR compliance.

Steps for GDPR Compliance
Scope Definition
GDPR Regulation Training
GAP Analysis and Data Privacy Impact Assessment
Data Discovery, Mapping and Flow Analysis
Implementation Support and Advisory
GDPR Assessment
GDPR Compliance Benefits
Improve the quality of your governance processes
Enable your organization to demonstrate accountability and transparency
Boost your resilience to unexpected negative events
Ease the adoption of newly and continuously evolving standards and regulations
Enable your transformation goals towards digitization
Reinforce your cyber security defence at all layers
Visit following sections for more information's on next step for getting certified from INTERCERT