Accreditations
INTERCERT is an accredited Management System Certification Body from reputed Accreditation Body Standard Council of Canada (SCC) for ISO 9001, ISO 14001, ISO 45001, ISO 27001, ISO 50001, ISO 22000 & ISO 37001 Management System Standards.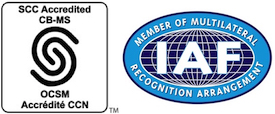 Standards Council of Canada (SCC) is leading accreditation organisation from America Region. Since 1970, the Standards Council of Canada (SCC) has been a leader and voice on standards and accreditation on the national and international stage.
SCC is a respected Canadian national accreditation board and leader in accreditation. SCC have built their reputation on making it their job to ensure conformity assessment bodies and standards development organizations demonstrate technical competence, reliability and integrity against nationally and internationally recognized standards.
Management System Certification Bodies accredited by SCC benefit from SCC recognition as Multilateral Recognition Arrangement (MLA) signatory with the International Accreditation Forum (IAF), InterAmerican Accreditation Cooperation (IAAC) and Asia Pacific Accreditation Cooperation (APAC). MLA Signatories are recognized worldwide based on the equivalency of their accreditation programs, therefore reducing costs and adding value to business and consumers.
Further, INTERCERT is an accredited Management System Certification Body from Accreditation Body United Accreditation Foundation (UAF), United States for ISO 27001, ISO 27701, ISO 22301, ISO 20000-1, ISO 13485 & ISO 21001 Management System Standards and Korean Accreditation Board (KAB), South Korea for ISO 9001, ISO 14001 & ISO 45001 Management System Standards.
INTERCERT is approved for Management System auditor trainings and personnel certifications from reputed institution EXEMPLAR GLOBAL (Formerly RABQSA). Exemplar Global is proud to be part of the ASQ family. ASQ is a global community of people passionate about quality who use their tools, their ideas, and their expertise to make our world work better. Exemplar Global provides personnel certification, credential management for individuals seeking further professional recognition and independent certification for training providers to enhance their course quality and outcomes.
Training Provider – TP 06587
INTERCERT is holding Exemplar Global accreditation for Auditor / Lead Auditor Trainings for following Schemes / Standards:
ISO 9001:2015 Quality Management System
ISO 14001:2015 Environment Management System
ISO 45001:2018 Occupational Health & Safety Management System
ISO 27001:2013 Information Security Management System
ISO 27701:2019 Privacy Information Management System
ISO 22000:2018 Food Safety Management System
ISO 37001:2016 Anti-Bribery Management System
ISO 21001:2018 Educational Organizations Management System
ISO 20001-1:2018 IT Service Management System
ISO 22301:2019 Business Continuity Management System
ISO 31000:2018 Risk Management System
ISO 13485:2016 Medical Devices Quality Management System
ISO 50001:2018 Energy Management System
ISO 14064-1:2018 GHG Lead Verifier / Validator