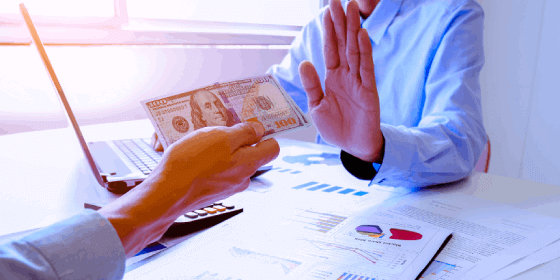 ISO 37001 Anti-Bribery Management System Certification
ISO 37001 is a standard for a management system that helps an organization avoid, detect, and respond to bribery and follow the relevant legislation guidelines that apply to its work. This article will provide you with all the information you need on ISO 37001 certification.
Introduction of ISO 37001
ISO 37001 is an international standard by ISO (the International Organization for Standardization) applicable only to bribery. The standard was created by ISO/TC 309 and published on October 15, 2016. The norm was based on previous ICC, OECD, and Transparency International recommendations. Leading international authorities like the US DoJ, US SEC, and UK Ministry of Justice gave recommendations to the standard.
ISO anti-bribery management is a fundamental part of a company's strategy to identify and mitigate the risks of corruption. For example, an understanding of risk is critical to the successful management of such risks. Additionally, the ISO anti-bribery management system's established principles and practices allow an organization to customize the ISO anti-bribery management system's suggestions.
Applicability of ISO 37001
ISO 37001 sets out requirements and provides guidance for a management system designed to help an organization to prevent, detect and respond to bribery and comply with anti-bribery laws and voluntary commitments applicable to its activities.
ISO 37001 applies to all types and sizes of organisations that wish to:
Implement the necessary measures designed to prevent, detect and address bribery

Promote trust and confidence for the shareholders, key stakeholders, and potential investors

Avoid and/or minimize the cost, risk and damage of involvement in bribery

Mitigate risks and achieve reputational notoriety by implementing Anti-bribery Management System policies
Objectives of ISO 37001
Bribery is one of the world's most dangerous habits. This vice has also caused institutions and countries to be demoralized. It has cost them a total of $1 trillion each year. ISO came up with a way to close loopholes in organizational systems that could be used for bribery. This was because they knew how bad this could be. The ISO 37001 anti-bribery management system makes it easy for businesses to use international standards for preventing bribery in their everyday operations.
ISO 37001 aims for organization improve its performance by changing its culture to be more transparent, thus eliminating bribery. It will keep your assets safe from bribery and corruption. Often, the adverse effects of corruption are in the form of money. It can hurt a company's profit margins to the point where the manager must use funds meant for either operating capital or assets capital to pay for bribes. It also hurts the brand's reputation when people know that an organization is bribing people or doing other things to get them to do what they want.
Features of ISO 37001 Certification
In the ISO 37001 program, whistleblowing procedures are based on best practices. This is a very important part of the program. Employees are usually the first people to find out about bribery and corruption in their company. Whistleblowing protection can be added to an organization's internal anti-bribery practices to make it easier for employees to reveal information about ongoing corruption. It's important to remember that whistleblowing information isn't always true, so you need to do your research and check it out.
The ISO 37001, for example, has made businesses follow the International Standard. Additional policies and guidelines from ISO 37001 are already in use by some businesses. A few guidelines were added to the existing policies. These include measures aimed at the offenders, such as reporting, monitoring, and rectifying them. In the past, organizations have followed them as they have, but today they know how to do it.
Companies must follow the new rules before they can do any business. It has become easier and more possible to fight corruption in businesses and organizations. To stop or even prevent bribery cases, each organization has a set of unique rules. Corruption charges can be avoided by following a set of rules and a code of ethics set by a company. It has been set out how every organization can deal with each other legally.
To put it in another way, businesses can more easily create goals and objectives and a mission with this kind of culture that encourages due diligence, monitoring, and evaluation to find and eliminate corruption issues. For businesses, bribery risks may be detected and dealt with so they can consistently and superiorly serve their customers without bribery and corruption. This helps to ensure the safety of the company's employees and maintain a positive work environment.
Another important group is investors. Investors need to be safe when they invest in any business or market, such as the stock market. They need to be protected from businesses that aren't honest. Because of the system, they can make accurate business deals that aren't paid for with bribes.
In many markets, such as the stock market, people like to take shortcuts in exchange for bribes. This is shown by insider trading of stocks and options. The use of anti-bribery management systems in everyday business allows organizations to use international standards to find and stop possible forms of bribery. Thus, ISO 37001 makes sure that the market is safe and fair. Investors are yet another critical demographic. In every industry or market, such as the stock market, investors need to be protected. They must be shielded from dishonest businesses. Real commercial agreements are possible because of the system, not because of bribery.
The ISO 37001, on the other hand, has very specific measures that help with the detection, prevention, and resolution of bribery in institutions. This ISO process looks at two different aspects of bribery. One, it talks about how the organization can bribe someone. Here, the certification asks for the name of either the business or the people who took a bribe that was supposed to help the organization. Two, it talks about situations where the organization has been bribed. In this case, a business or one of its associates has received or given a bribe in connection with the business's work.
Benefits of ISO 37001 Certification
Regulatory Compliance: Be aware of the impact that statutory and regulatory obligations have on your business and its clients and Build trust among legal authorities on compliance with applicable legislation
Risk Management: Be aware of the managing risk, adhering to regulatory requirements, and keeping an eye out for potential issues in the future. Endorse Organization commitment on Anti Bribery Management and provide opportunities for identifying bribery risks
Business Integrity: Make sure that bribery isn't a threat to the integrity of your firm or the integrity of your personnel resulting confidence in the customers, the community, employees and the Authorities.
Business Contingency: Effective risk management, emergency readiness, and contingency planning may help you stay attentive and save money.
Business Sourcing: Supplier or subcontractor development should follow a standard methodology to provide uniformity, competence, and control throughout the supply chain.
International Recognition: Accuracy and reliability have been verified by an independent source, enhancing the statement's credibility and reputation through accredited certification. International Recognition of Certification improve organisation image and reputation and gives advantage over business competitors.
Implementation Requirements of ISO 37001
Policy & Objectives: Define Organizational anti-bribery policy document.
Risk Assessment: Organizations need to assess the bribing situation continuously. They need to identify avenues and situations where people give or take bribes. After identification, proper surveillance in those situations needs to be taken.
Procedures: Define adequate mechanism and procedures for mitigating bribery at potential processes, reporting, and investigating briberies.
Implementation: Implementation of defined policies & procedures for prohibition of bribing. Organizations need to eliminate bribing at all possible stages of risks identified and need to implement strict measures for the personnel's involved in bribe.
Compliance with anti-bribery laws: Organizations need to ensure that they follow all the anti-bribery central and state laws of the country.
Continual Review: Organizations need to conduct regular reviews through internal audits and management meetings for ensuring effective implementation of anti-bribery management system and continual improvement.
Certification process of ISO 37001
Application: Apply for ISO 37001 Certification
Certification Audit: The anti-bribery management system is audited thoroughly in two stage audits. Organization management system will be reviewed by an INTERCERT auditor and thereafter detailed certification audit will be conducted to determine its level of implementation. An opening & closing certification meeting will be held to validate the audit plan and address organizational difficulties, and the auditors sum up their findings and answer questions at the end of the audit. Any problems highlighted as non-conformance or observations will be reported to you constantly during the audit.
Audit Reporting: The auditor writes a report on the audit findings and submit the report to Certification Committee for reviews. The organization is then informed of the certification process conclusions
Certification: The organization will be awarded the certificate after remedying the corrective measures asked for under audit reports. Before granting certification, the Certification Committee will approve a corrective action plan for non-conformities to be addressed.
Surveillance: The organization management system will be periodically audited by INTERCERT for reviewing the implementation effectiveness & control measures of implemented management system.
Why INTERCERT for ISO 37001 Certification
Now that you are aware of the plethora of benefits that ISO 37001 Anti-Bribery Management System Certification brings, you should prepare your organization to be certified. For that, INTERCERT could be your trusted excellence partner for SCC (IAAC Signatory) accredited Certification Services and Exemplar Global accredited auditor training services.
INTERCERT is an accredited Management System Certification Body from reputed Accreditation Body SCC (Standard Council of Canada). The SCC is MLA Signatory with IAF (International Accreditation Forum), Inter-Amercian Accreditation Cooperation (IAAC) & APAC (Asia Pacific Accreditation Cooperation).
The institution was established in year 2009 with the group of quality professionals keen to contribute towards safe and sustainable world. The INTERCERT group having rich experience of twelve years is delivering excellence through international certifications and trainings across the globe.
The prime mission of INTERCERT is to provide transparent, Impartial and Value-Added Lead Auditor Trainings & certification services to help its customers achieving qualitative business goals with trusted assurance seal of INTERCERT.
The INTERCERT team currently possesses the experience in wide range of business scopes of industrial and business sectors and offers its customers professional assessments and certification services internationally as per ISO 17021 Standard requirement. Our team is committed to adopt the challenges and changes of business requirements in service delivery to meet our customer expectations. We are being the first choice by customers from various countries on the basis of our below unique features: